---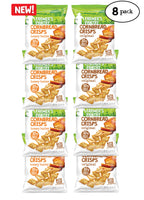 Honey Butter/ Original Bite Size Cornbread Crisps Variety Pack, 2 oz. (8 Pack)
Variety is the spice of life! Now you can get your favorite Farmer's Pantry Cornbread Crisps flavors in one box. 
Original (salty with a touch of sweet) and Honey Butter (honey butter and cornbread) complement each other perfectly!
We've made it easier than ever to get the flavors you love. No fuss, no muss!
You'll get:
(4) Original
(4) Honey Butter
Cornbread Crisps are great for munching right out of the bag, adding to a soup/stew, or crumbling right into a favorite recipe. Perfect for snacking any time!
10g Whole Grains Per Serving
Baked Not Fried
Money Saving Value Pack!